Beach house Mari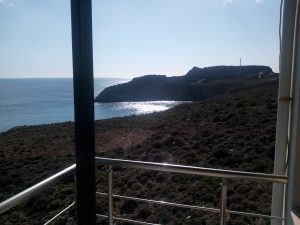 Beach house Mari is an ideal location for a holiday by the sea, for undisturbed beauty and relaxation with the comforts of home. The 80 m² house is remotely located offering quietness and tranquility. You will be challenged to leave the house due to the perfect combination of his secluded position and the breath taking view to the Libyan Sea. It is the perfect place to come to rest from today's fast society.
You enter the two-levelled home in the open plan kitchen with panoramic windows with straight sea view. The fully equipped kitchen is the perfect place to prepare your meals and enjoy them on the waterfront balcony savoring the beauty of nature. Fridge, cooking plates, oven, micro wave, and utensils, everything you need is provided.
With the internal stairs of twenty steps you go down to the basement where the bedrooms are located. The master bedroom is equipped with a double bed, the second one with 2 single beds. Both have sea view and view to the garden. The bathroom is next to it with bath tub.
The house faces south to the Libyan Sea. On the basement level is a small garden. At the entrance of the house, facing the north to the mountains is a nice well maintained garden with sitting area. Here you will wonder how the wild goats, the kri kri, are able to climb those mountains. You might even get one of them unexpectedly as a visitor at your front door.
You can leave your car parked on the street just in front of the house.
The beach is on a 5 minutes' walk from the house, where you also can find two taverns. There are no shops available here. More supplies and restaurants you can find in the neighboring village of Tsoutsouras. When you are down at the beach it is worth to walk on the shoreline to find your own private small creek.
How to reach ?
There is an asphalt road going to Tsoutsouras. From there you can reach Maridaki beach by boat. There is a frequent connection between Tsoutsouras and Maridaki beach.
You can also walk up to Maridaki beach on the very well indicated walking path. You should count 20 to 30 minutes to reach the beach.
Off course you can also reach Maridaki beach by car. From Mesochori is a dirt track going down till the beach, a 45 minutes' drive.