A sweet flavor of Cretan tradition on the flank of the mountain.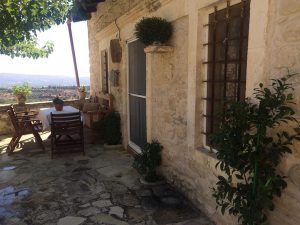 The house Veïsakis is a traditional house from 1933. This stone house is one of the oldest houses from this historic village. Decorated and furnished with traditional Cretan objects and furniture will leave you with a sweet flavour of Cretan Tradition. The house can accommodate up to 4 persons.
The house kept his levelled construction. It features a bedroom on the first floor with double bed and 2 single ones. On the ground floor you have a fully equipped kitchen. The Cretan living room is cool in summer and has a fireplace for the wintertime.
The gem of this house is the outside area, a wonderful stone patio in front of the house.
The patio is the ideal place to relax and enjoy the marvellous views and to listen to the sound of nature. The house is landscaped in the culture and style of Cretan Tradition, a really special place.
A historical village of Crete, with only a few houses, with stunning views will enchant you, waiting for you to relax and will make you want to discover the secrets of this wonderful island.