Villa Lia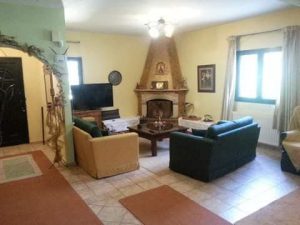 Villa Lia, this absolutely quiet and idyllic two-store holiday villa is located on a 5000 sq. olive grove.  The villa has 2 separate units, ground and upper floor. Both units have their own private entrance. Both are spacious units with 130 sq. maters down and 100 sq. meters up.
The spacious living and dining area with fire place are located at the ground floor.  Furthermore you have the open plan kitchen next it. As well as two bedrooms and the bathroom with shower are on the ground floor.
A staircase leads to the upper floor. Also here you have an open plan  kitchen. Additionally you have a bedroom and 2 bathrooms. The one bathroom has a bathtub; the other one is equipped with a shower.
From the front balcony you can enjoy a fantastic view of nature and the village of Peri. A staircase leads down to the garden with a pavilion.
From the back balcony you can savor an amazing panoramic view to the mountain Psiloritis. Another staircase leads down to the covered terrace with barbeque area and outdoor kitchen.
The yard is filled with an organic fruit and vegetable garden. The organic fruits and vegetables may be harvested depending on the season. But for sure you can collect your fresh egg from the free-range chickens in the olive grove.
On top of that you have a grass area with pavilion.
No to forget is the shaded veranda with barbeque and a fully equipped outdoor kitchen.
Scattered over the immense surface you can find various sun and shade places.