Exuding aristocracy and an air of luxury, decorated and very tastefully furnished, Villa Rita will give you the feeling that you are in a small palace.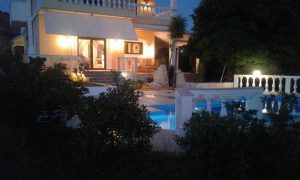 Villa Rita, located in a beautiful beachfront area of Crete, Kalamaki. The location of the Villa is on a hill giving you the chance to enjoy a unique view to showcase the valley and the bay of Kalamaki.
Villa Rita is a very special villa that will enchant you at the first glance and will make your holiday unforgettable and unique. This villa is a place that truly is not to describe with words, the images say more then words. With rooms for non-smoking and smoking area, three bedrooms, two bathrooms, fully equipped kitchen all furnished and decorated in the same style and tone of the whole house, they will satisfy even the most demanding visitor.
Kalamaki is a small village far away from mass tourism, but with all the necessary shops. Bakery, mini market, Bank ATM , restaurants etc.
Ideal situated for daily excursions to the archeological places of Festos, Gortyna as well as to beaches with cristal clear water.