The office
My travel office is named "Anesi tou notou" which can freely be translated to "the southern comfort". It is a young and dynamic company that focuses on promoting accommodations, mainly in the South part of Crete.
I deliberately do not focus on mass tourism, but aim to introduce the guests to the authentic side of Crete, nature, the inhabitants and their culture.
The office is approved by the Greek Tourism Organization and works under the license number MHTE1039E60000186001.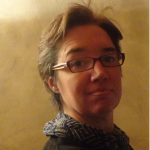 Nadine Dieleman
I graduated from KU Leuven in Belgium and have my Licentiate degree in applied economics.
I have worked in tourism over the past years and gained my experience as a tour guide, hotel, reception, car rental, etc. Now a few years later the idea arose to offer holidays in a different way, with a lot of attention to answering the personal wishes of the guests and this without losing any authenticity.  From the other side I manage the reservation services from the property owners giving them the opportunity to rent their property.
I am there for you in all situations and I am happy to assist you with all doubts you might have.
Crete, a variety of diversity
Our region here in South Crete, also known as the Messara plain, has a lot to offer. The untouched nature with its beautiful landscapes and many hiking trails makes this region a true paradise for hikers. Crete also has a distinctive flora and many plant species only occur here. The many gorges and coastal areas are a home for various (predatory) birds and thus let bird lovers get their money's worth.
Crete has innumerable churches, monasteries and chapels that occasionally leave a somewhat deserted impression, but many of which still have beautiful icons inside.
The typical villages which testify to Greek life are each worth a visit in itself.
Different cultures have left their mark here and even today one can still admire the remains of this over the entire island. We think not only of large excavation sites such as Knossos or Phaestos, but also of the smaller sites that are scattered here and there in the fields, such as Agia Triada or Eleftherna.
Our service
I want to share all this beauty of Crete (cf. the diversity of Crete) with my guests. My focus is to bring people closer to life here, nature, culture, people and customs. And realize all this in a relaxed holiday mood where no one lacks something.
I do not want to be an anonymous company but strive for optimal contact with my guests, but also with the homeowners, whom I all know personally.
Since I have lived here for many years, master the language and know the customs, I can perfectly respond to the wishes of my guests and homeowners.
You can contact me for all kind of information; excursions, ferry tickets, taxi transfer or a rental car.
Do not blindly stare on the availability calendars. I have an extensive network with different accommodations. Just ask me without any obligation a price quote for your holidays.
I am here at your disposal !