Sound of the waves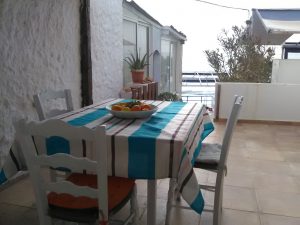 It's a great Studio with a loft and sea view! The apartment is beach front located.
In the holiday rental can be hosted families, up to 4 people.
The stairs lead to the loft, therefore it is preferable not to accommodate little kids.
There is a big double bed in the ground floor and two single beds on the loft.
A bathroom and kitchen are provided for your easiness.
It has a light and alongside a modern decoration with bright colors that fit totally with the atmosphere that the sea views provides.
Also a comfortable terrace is in front of the house with sea view.
This marvelous sea view reminds you of a magical place.
Only five minutes relaxation in the front terrace can take away all your worries.