Villa Filliza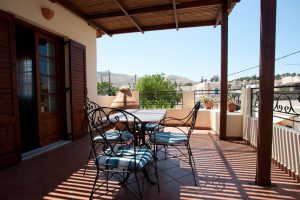 Villa Filliza is a mansion of the 1900 which is located in a short distance from the heart of the village.  The villa is a natural stone house. It was built with local natural stone and wood and certainly with respect to the Cretan tradition.
The house was renovated with great care to the tradition as well as to the modern comforts and needs. There is a combination of traditional and modern elements. It is fully equipped with comfortable Cretan antiques ideal for relaxing vacation.
The indoor living area is 150sqm with two levels. At the entrance area s a veranda full of local flowers.
Interior
On the first level is the large living area with two Cretan comfortable benches as well as smaller sofa. Furthermore there is  a large wooden dining table, a traditional stove. The wooden stairs lead you to the upper level. Next to the living area is a comfortable fully equipped kitchen as well as a big bathroom and a laundry place. From here you can reach the a large veranda and a large garden offering a wonderful view to the plain of Messara and the Ida Mountains. In the large veranda there are two wooden tables, wooden bench and chairs as well as a BBQ.
On the top floor are three bedrooms. The two of them are in the same level. Both are decorated with traditional double beds and wooden antiques. On the loft of the house is the third bedroom, reachable by a few wooden stairs. It is beautifully decorated by two single beds and wooden wardrobe. All the bedrooms have their own terrace. From here you have an amazing view of the village from the one side and the plain of Messara and the Ida Mountains from the other side. Not to forget the small bathroom on this level of the house.
Villa Filliza has fully kitchen equipment. It provides ceramic kitchen, oven, microwave oven, coffee machine, sandwich maker, herbs, olive oil and all the necessary equipment for cooking.  There are plenty of towels and bed sheets as well as wifi and satellite television.