Villa Petra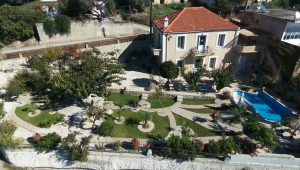 Villa Petra is a beautiful, single and classic manor- house from the 19th Century.
It has a private heated pool, with constantly fresh water without chlorine.
From the large garden you can enjoy a fantastic panoramic view on the Libyan Sea and the Idi-mountains.
The house has been restored with great care, goodwill and respect to the typical traditional architecture. It has been renovated with historic building materials such as using stone and wood.
The top level has 1 generous living and dining area. It is furnished with traditional Cretan furniture, antique (100 years old). There are  2 bedrooms, one with double bed, one with twin beds. Furthermore you can find a bathroom with shower and modern hydro-massage. Off course it features also a fully equipped kitchen with washing machine. Outside area consists of  2 balconies and a large terrace.  Nice detail to mention is that the entire floor comprises of wooden floring.
The other level has also a furnisched living area. On the same level you have a bedroom with double bed. It features also a bathroom with shower and modern hydro-massage and off course a fully equipped kitchen.
All the windows in the villa are covered with mosquito nets. For that reason you can enjoy all day and night the fresh air of the village
The property is ideally equipped for 2 families or a group.