Villa Vigles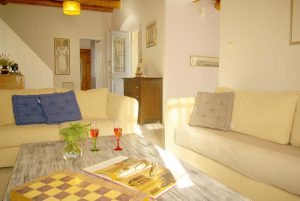 Villa Vigles is located on the outskirts of the village of Vori.
The house was built in 2001 and renovated in 2017 with an infinity pool and lounge area with fantastic views.
The decor was inspired by a mixture of the Cretan tradition and practical modernises. You will feel right at home.
The building has three bedrooms and a fully equipped kitchen.  On the ground floor is a shower room as well as the large living room with fireplace. Outside you can enjoy at the veranda and off course in the garden with pool, palm trees and fruit trees.
On the second floor are the 3 bedrooms. Above all the one bedroom has a large terrace.
All rooms have a double bed. Furthermore the one bedroom has a third additional bed creating a 7th sleeping place.
On this floor there is a full bath with washing machine.
Here you can relax, enjoy a glass of wine, plan the excursion for the next day or simply relax in the hammock.